It seems quite common on our Westies for the fan on the original Kerstner air conditioners to go out. When it does, the replacement has always been expensive – Kerstner replacements are over $700!
In July of this year, a sprinter_westfalia member found a lower-price replacement – in fact, I think the identical fan, for about $250:
http://www.onlinecomponents.com/ebm-papst_a1g280-aa79-11.html?p=12102224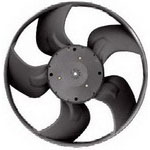 If you're a member of the group, you can find the info starting in post 10083.
A few months later, in talking with a Westy owner who got in touch through this site, I was told of another replacement that the owner's mechanic had discovered. He used a $65 radiator fan common on European cars as a direct replacement. It's even available on Amazon.com!
Hayden Automotive 3670 Rapid-Cool Thin-Line Electric Fan
If we keep up this rate of creative part sourcing, soon we'll have all of our parts for free!