Update: Van is sold.
Brian Borg sent me the following info on his Westy for sale. Please contact him directly if you're interested.
Westy for sale!
Price: $50k
Location: Berkeley, California
Miles: 93k
Condition: Good
Contact: Brian Borg, (email removed after sale)
Full pics can be found here on dropbox
Details
I'm a happy Airstream Westfalia owner, having bought one new in 2007 from the Intermountain Coach Airstream dealer in Colorado Springs. But my life turnings have led me overseas, and this vehicle is simply not getting much use any longer…so after a couple years of internal wrangling, I've finally come to the decision to let her go.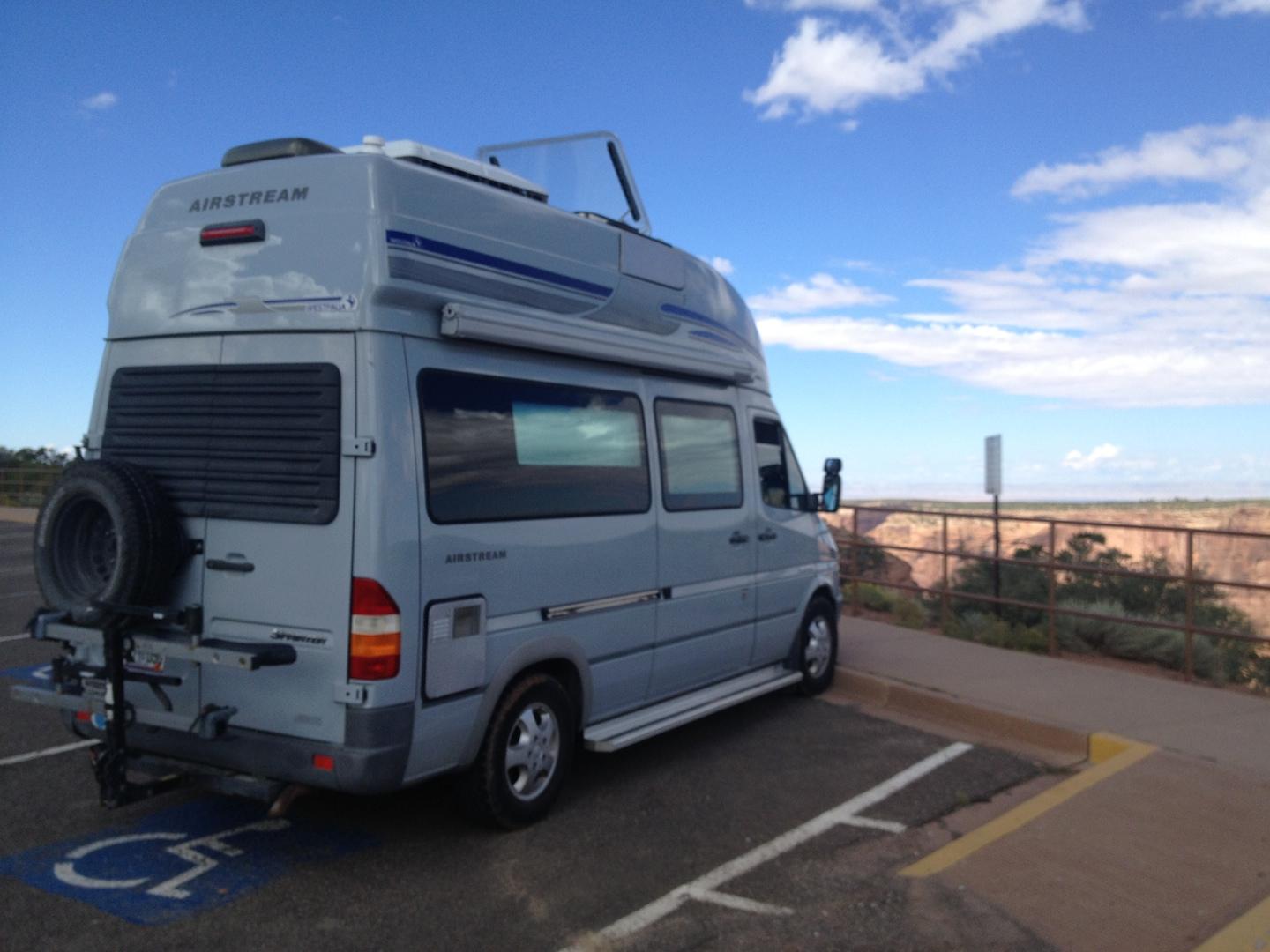 Beautiful camper van with beautiful views
This vehicle has the standard package you've probably already seen for a Westfalia (see bottom of page for complete details, thanks to McKinney's posting on Sprinter-Forum). If this is your first time exploring this vehicle you can find a good pictorial overview from this YouTube video.
I've also added a number of extras over the years such as the following:
Front/passenger seats professional carpeting
Front/passenger window screens (bug guard)
Sliding door mesh screen (bug guard)
Custom wood countertop inlay
Dual fuel-injection furnace, for both sea-level and high altitude camping
Tow-hitch Thule bike carrier (two bikes)
Rear door spare tire carrier plus full-size spare
Hood bra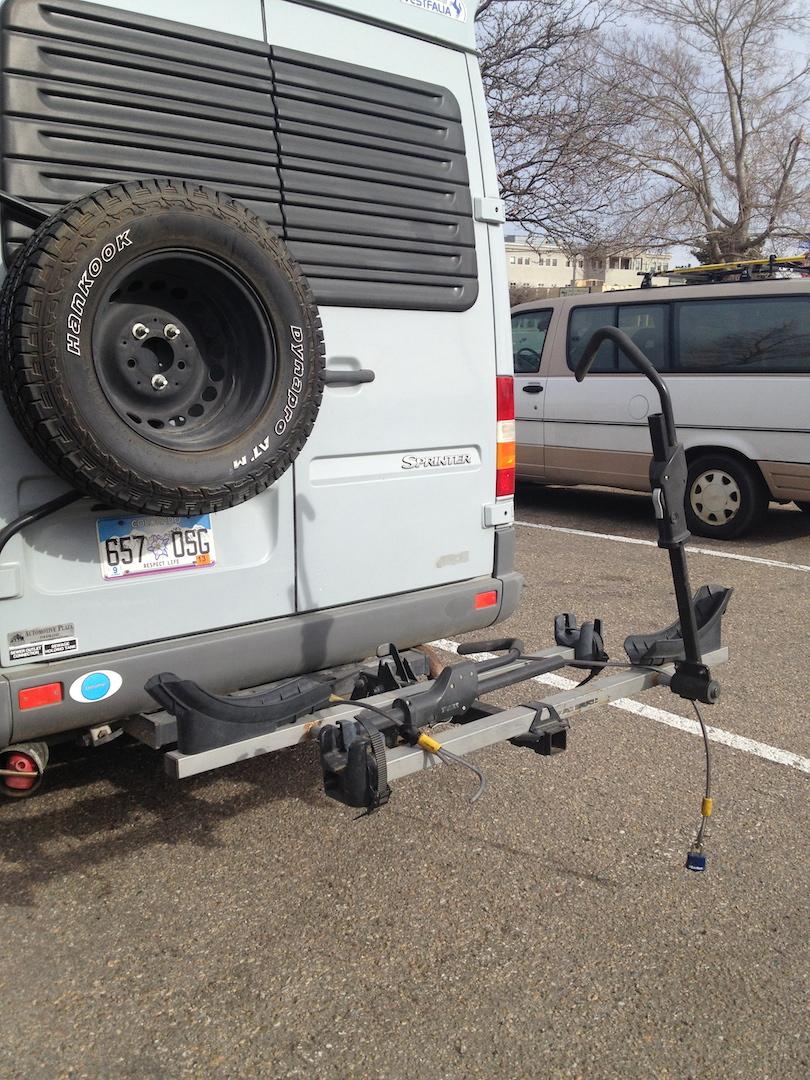 Rear spare mount with full spare; Thule bike rack
I've also upgraded the sound system with an Alpine CDA-9886 stereo with Focal speakers in both the front (cab) and rear (coach). This is a great system with a connection for an iPod (located in the glove box), and options for a thumb drive connection, satellite radio, and more. Complete specs can be found here.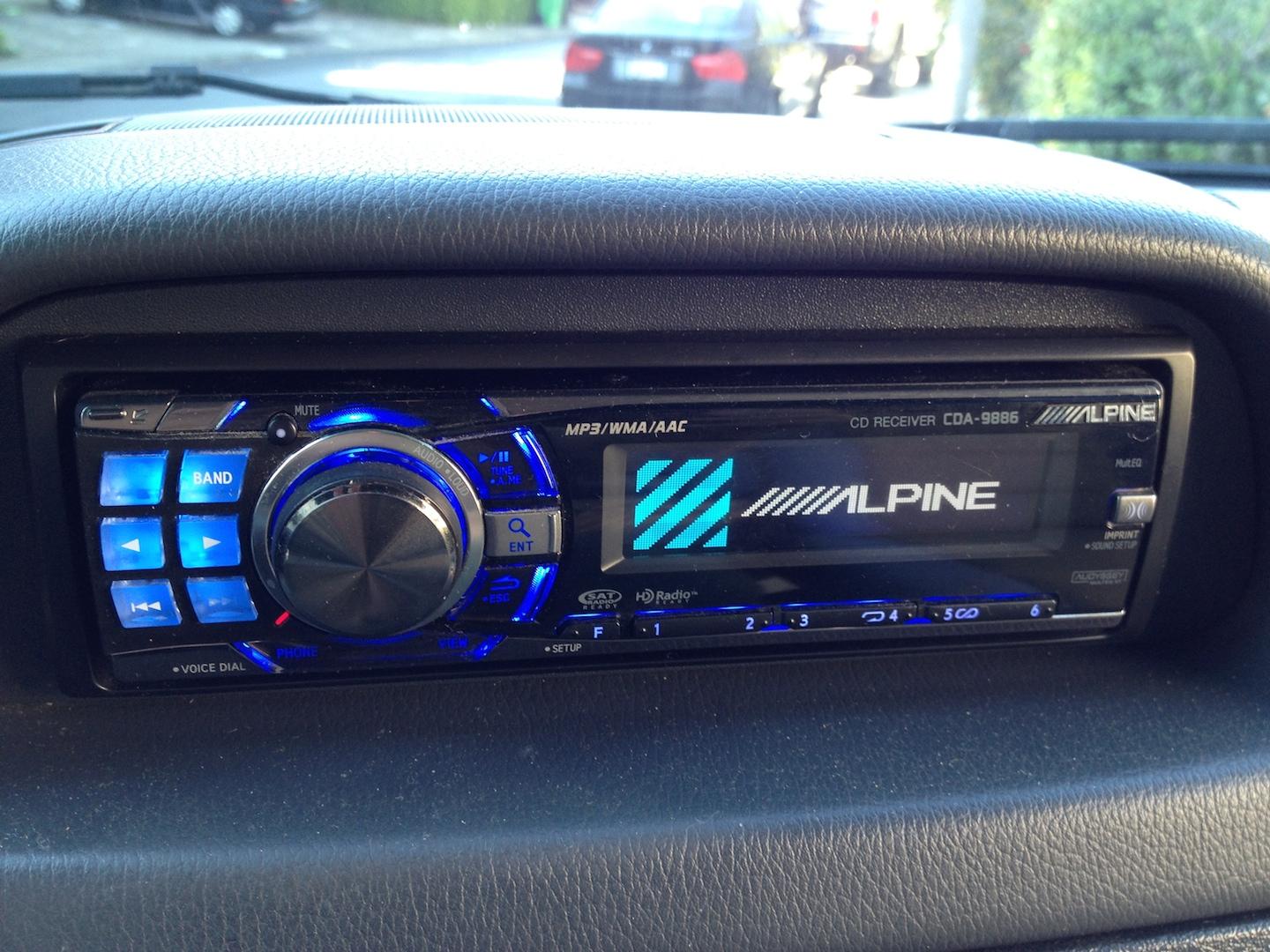 Alpine stereo upgrade
Recent/current maintenance (last 12mo):
Replaced fresh water pump
Replaced coach aux batteries
Replacing soon upper flip-out window
Replacing soon black tank gauge
Replacing soon fresh tank gauge
Replacing soon bathroom faucet head
I've had a wonderful time living and camping in this vehicle over the past 7 years, and have driven it coast-to-coast more than once during it's time. It definitely has been worn in and I wouldn't consider it "like new" but I am a stickler for cleanliness and proper maintenance, so you won't find a cleaner vehicle considering the use. I also have kept all records regarding the work done on both the chassis and the coach, to prove the care I've taken from tip to tail – all maintenance from the regular oil changes to the major milestones have been accounted for.
Sedona, AZ
All appliances and items work on this vehicle! Generator, A/C, fridge, furnace, microwave, TV, sinks and faucets, hot water heater, awning, humidity-controlled sunroof, etc.
The Espar diesel furnace was not rated for high-altitude camping, so after some negotiations with Airstream they agreed to install the high-altitude fuel pump. This necessitated the installation of a separate control unit for the furnace plus a switch to choose which fuel pump to use.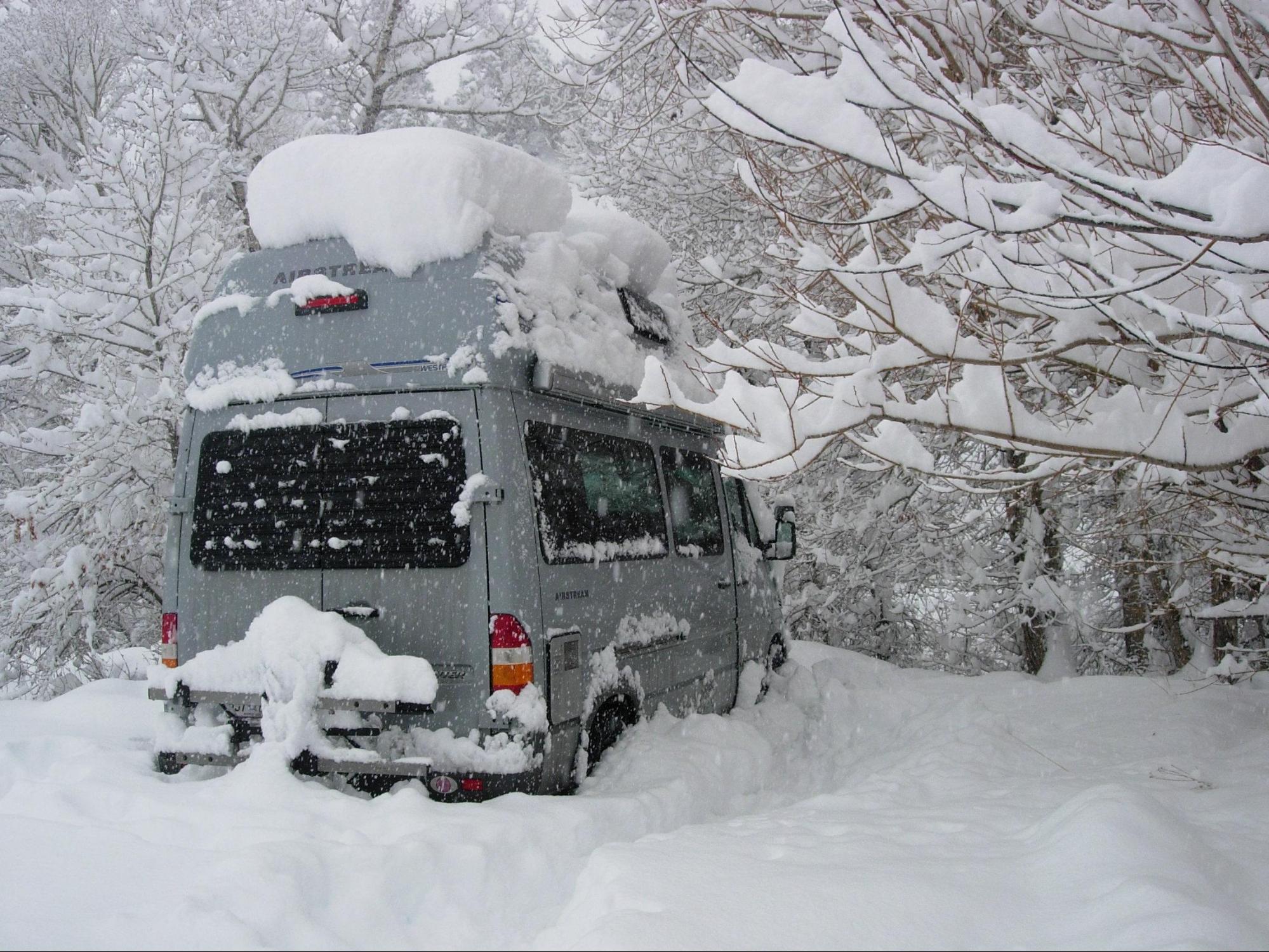 Four-season camping
In the spirit of full disclosure, one item I haven't fixed was one of the faucet pressure control switches which controls the water pump. These switches keep the pump off when the taps are closed, and turns it on when any tap is open. There are three such pressure switches – one at the toilet, one at the bathroom sink, and one at the kitchen sink, and I couldn't figure out which one went bad. To work around the issue I simply manually turn the water pump on and off using the rocker switch located in the kitchen countertop cabinet. It's by no means a difficult task, but it's not as "convenient" as simply turning on the faucet and having water come out; first you have to turn on the pump and then use the faucet :). This is very likely fixable, with some clear and methodical troubleshooting.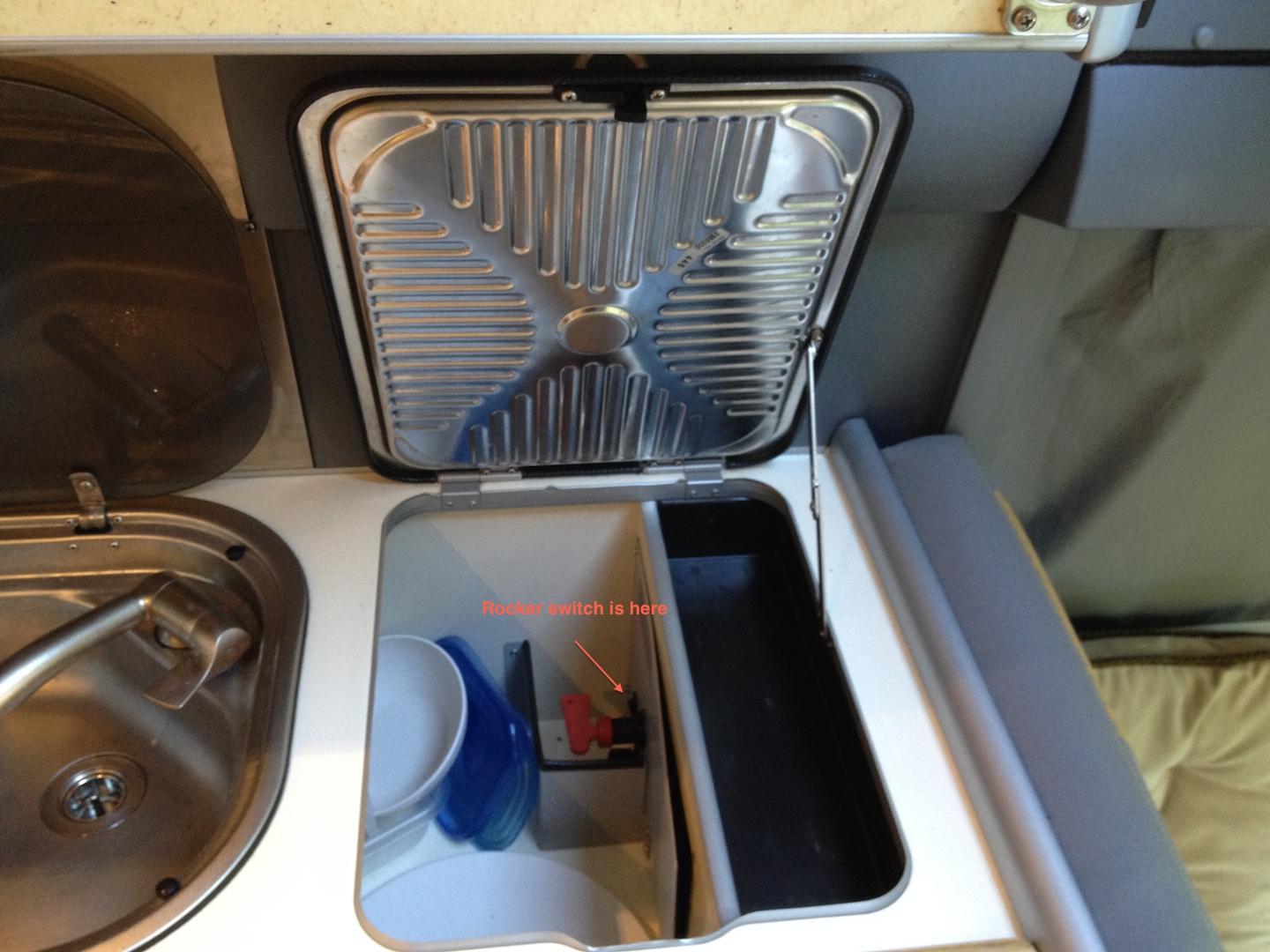 Countertop cabinet with water pump switch
The other item which proved troublesome from the start was the blackout shade on the main window. It requires manual retracting (ie. it doesn't roll up automatically).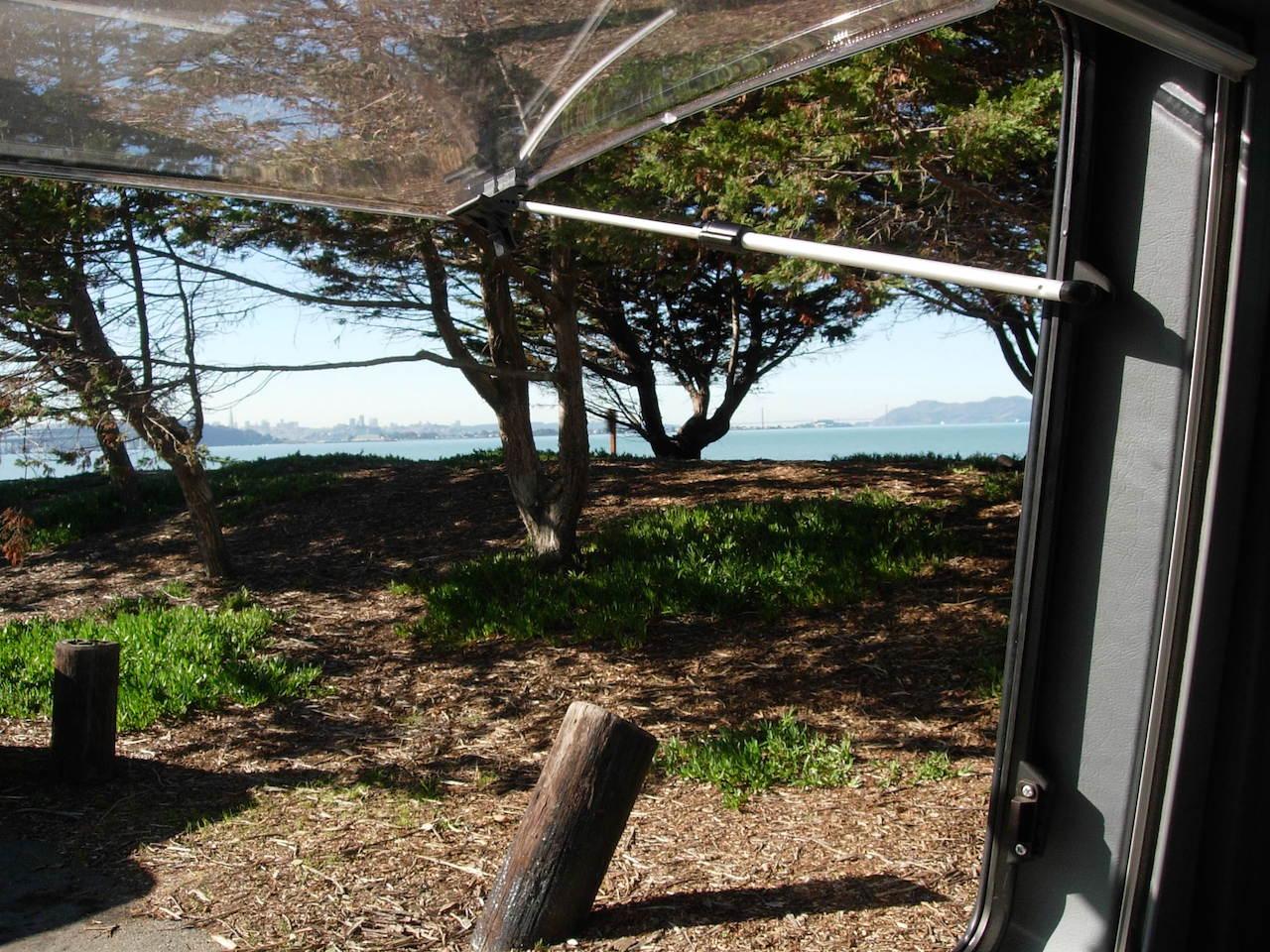 The vehicle is currently in a covered and secure storage lot in the east bay of the San Francisco area, and I'll be happy to show it when I'm in town in late June 2014. If you're interested please call and I'll be happy to answer any and all questions.
My ideal situation would be to have a serious buyer lined up, so that I can return in June from my current stay abroad, give it a quick maintenance and show the vehicle to you, then complete the transaction and hand over the keys.