Update: Van has sold! Happy trails 🙂
(Added interior pictures here: Interior pictures of my van for sale.)
The time has come to sell my van! You can tell by the fact that I keep this blog that I LOVE the Sprinter Westfalia 🙂 But I've just bought a house and I can't keep the van anymore. I'll be saving up my money for another one, though – there's absolutely nothing like these vans in the USA.
The van is near Maltby, WA – about 30 miles northeast of Seattle. Price is $55k.
(Update: I had the mileage wrong when I posted this ad. Actual mileage is 44,000.)
Ian Stock's blog post is a great overview of the vehicle for anyone unfamiliar with a Sprinter Westfalia. Basically, it's an award-winning European camper converted by Westfalia, on the Mercedes Sprinter platform. In 2005, Airstream imported just 250 of them, making them literally the van for one person in a million 🙂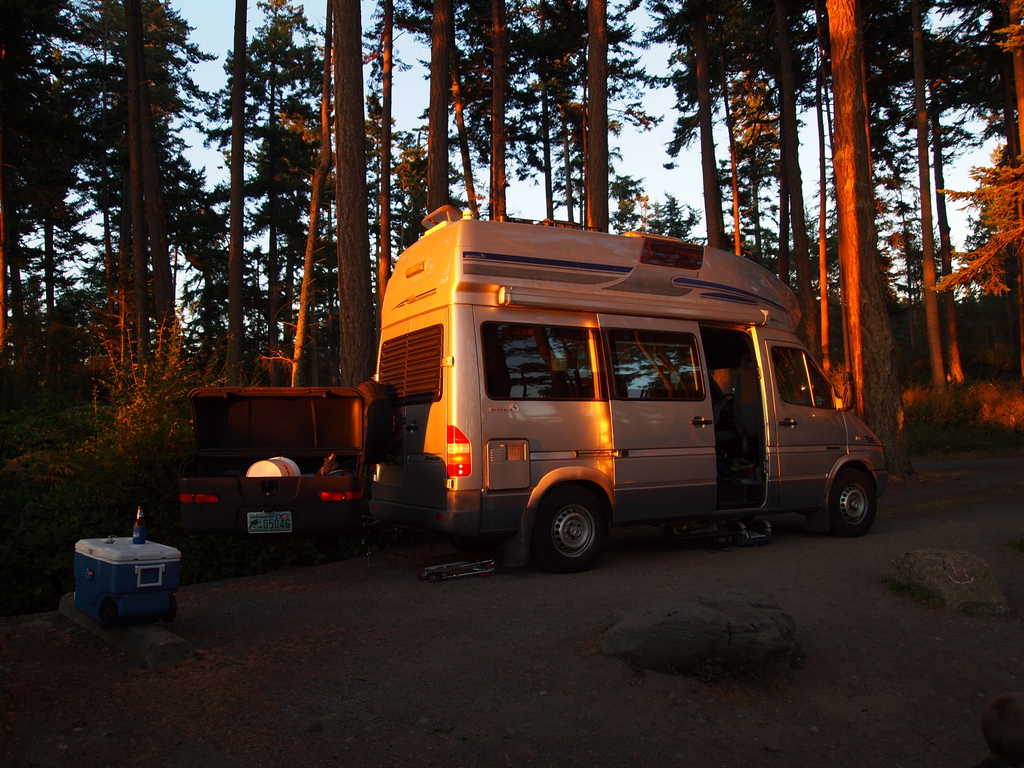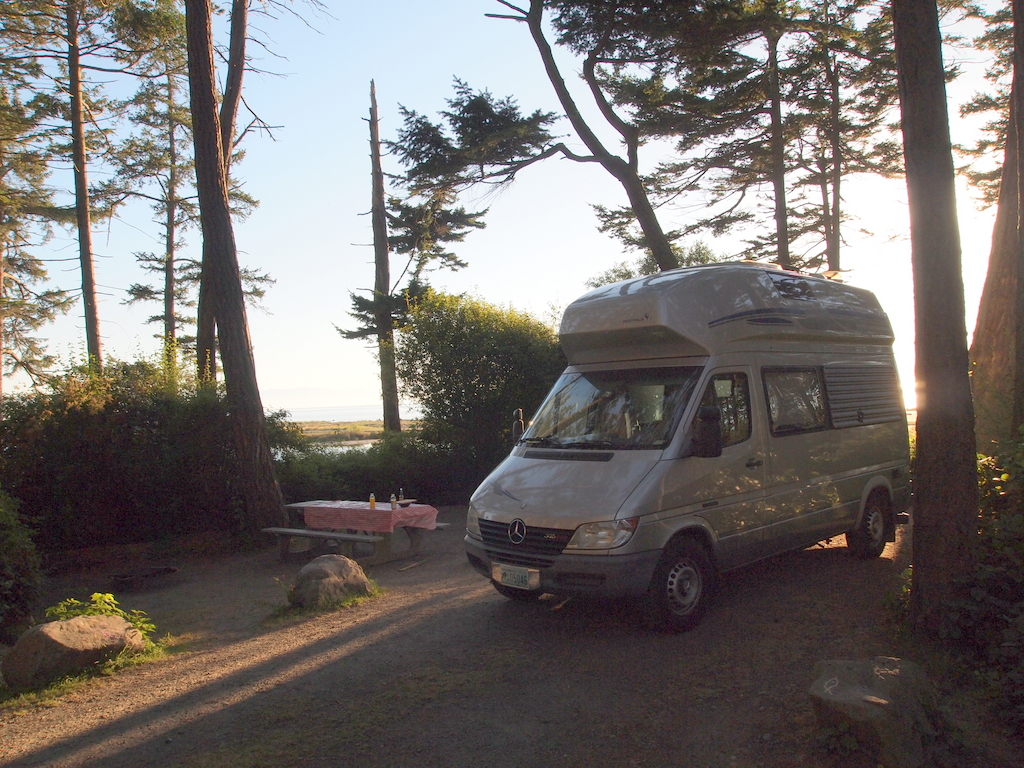 The van is in excellent shape; everything works except the air conditioner, which is the only unreliable appliance on these vans. More and more owners are replacing their original units with simpler, lighter modern American versions; some have removed them altogether. I was planning on replacing ours with a solar panel. (Update: I should make clear that the rooftop air conditioner is broken, but the dash air conditioning works perfectly!)
The generator fires up each time, the propane stove works beautifully, the hot water heater provides plenty of shower time, the fridge stays cold. I upgraded the black water system on the van, replacing the stock tank with a custom tank twice the size (20 gallons).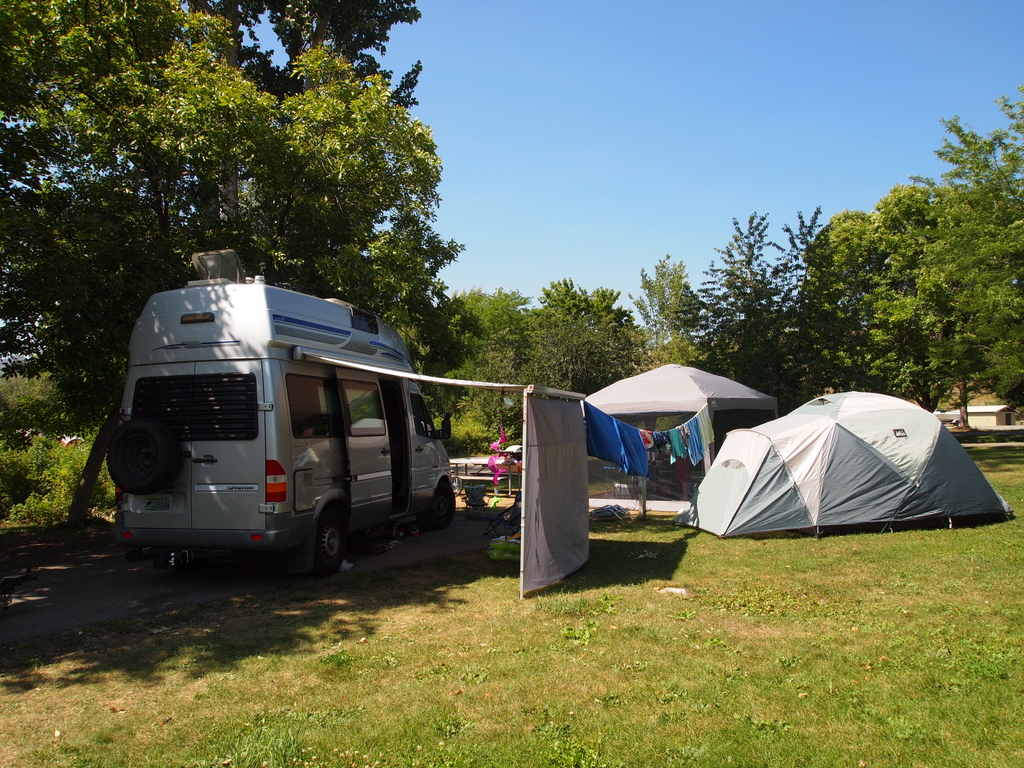 At the same time that I replaced the plumbing, I added digital tank sensors to the black and grey water tanks. Instead of the 33% / 66% / full gauge that came stock, the new sensors provide 1% levels to the digital display.
There's a Stowaway Max cargo carrier in the rear hitch, which provides 16 cubic feet of storage on a swingaway frame. We carried firewood for the trip, camp chairs, Tonka trucks, and more! It has a locking lid and a locking hitch pin, and is completely waterproof.
Even without the box, the van has an amazing amount of storage. There are cupboards and shelves throughout the entire vehicle, and we happily camped as 2 adults and 2 young kids with all of our stuff.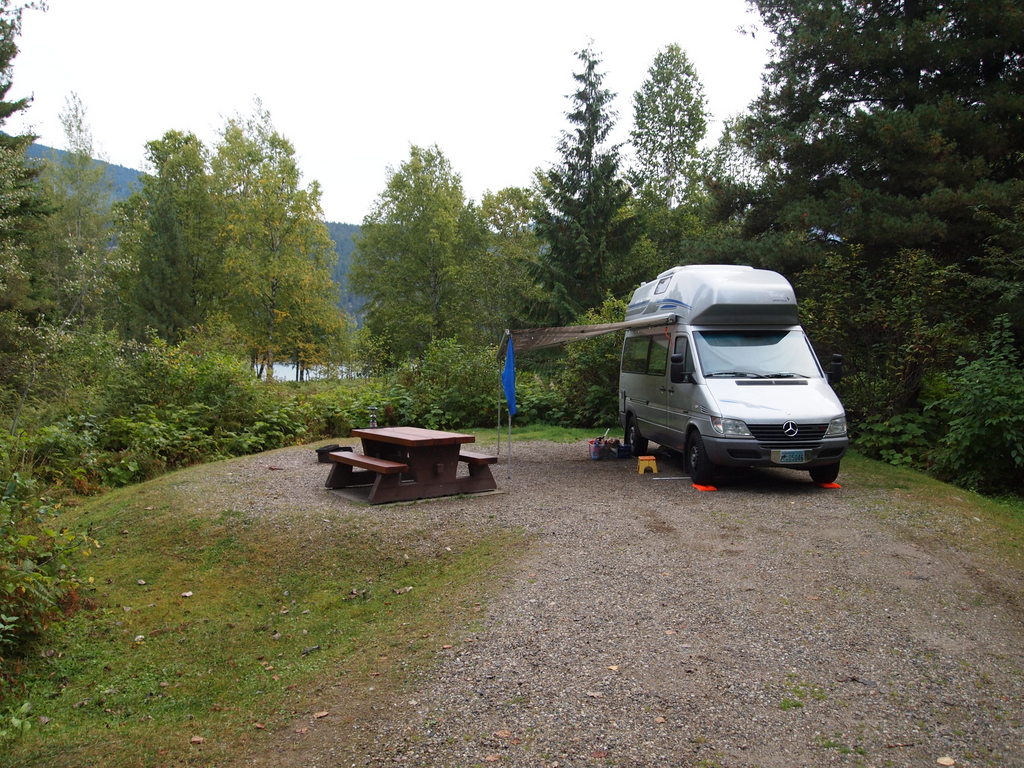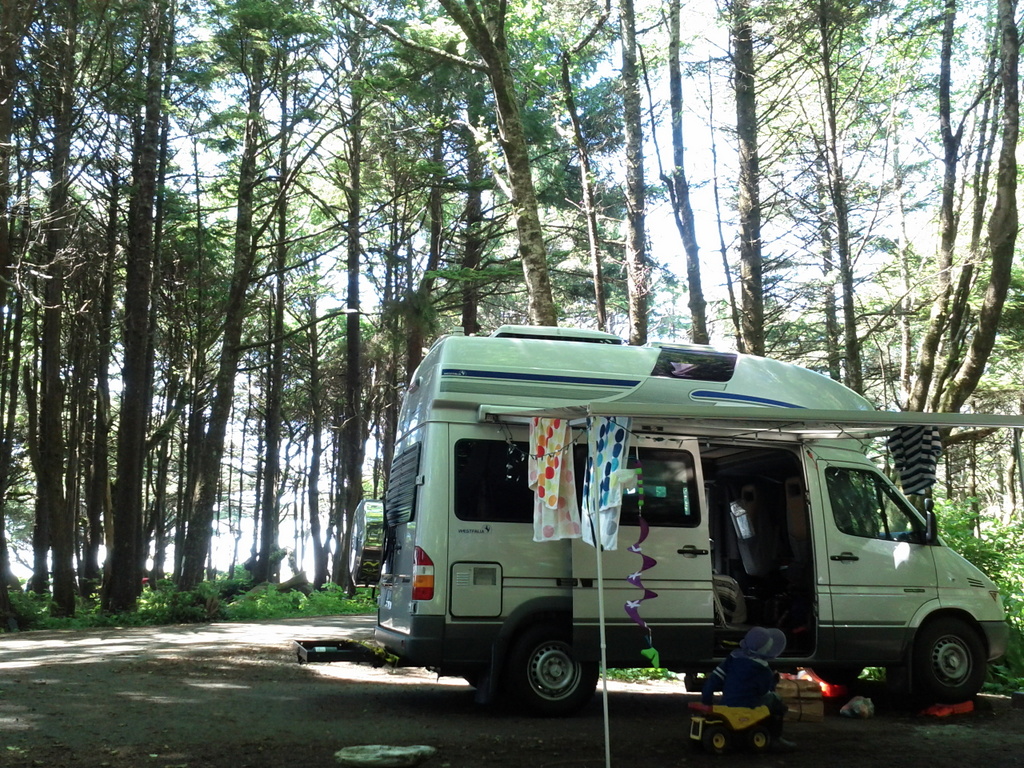 The engine runs beautifully, and I've always used Mobil 1 synthetic. There are 44,000 miles on the odometer – barely broken in for these 5-cylinder diesel engines! I've averaged over 20mpg this whole time. Though I never took the plunge, many have run straight biodiesel in their identical Sprinters with fantastic results.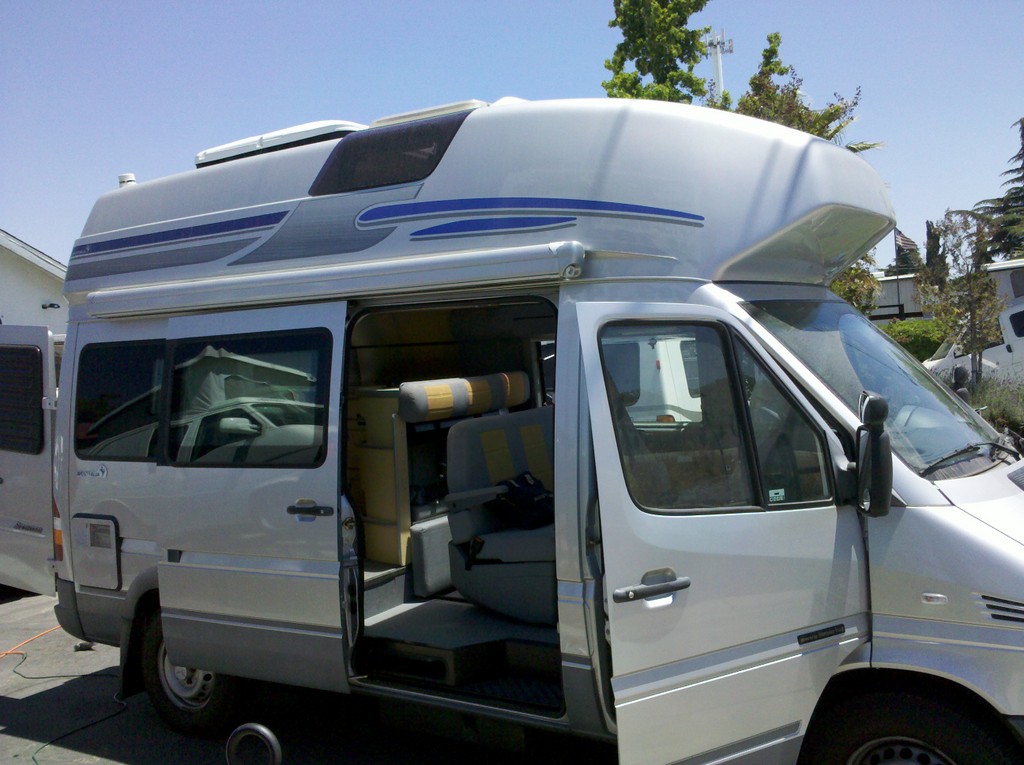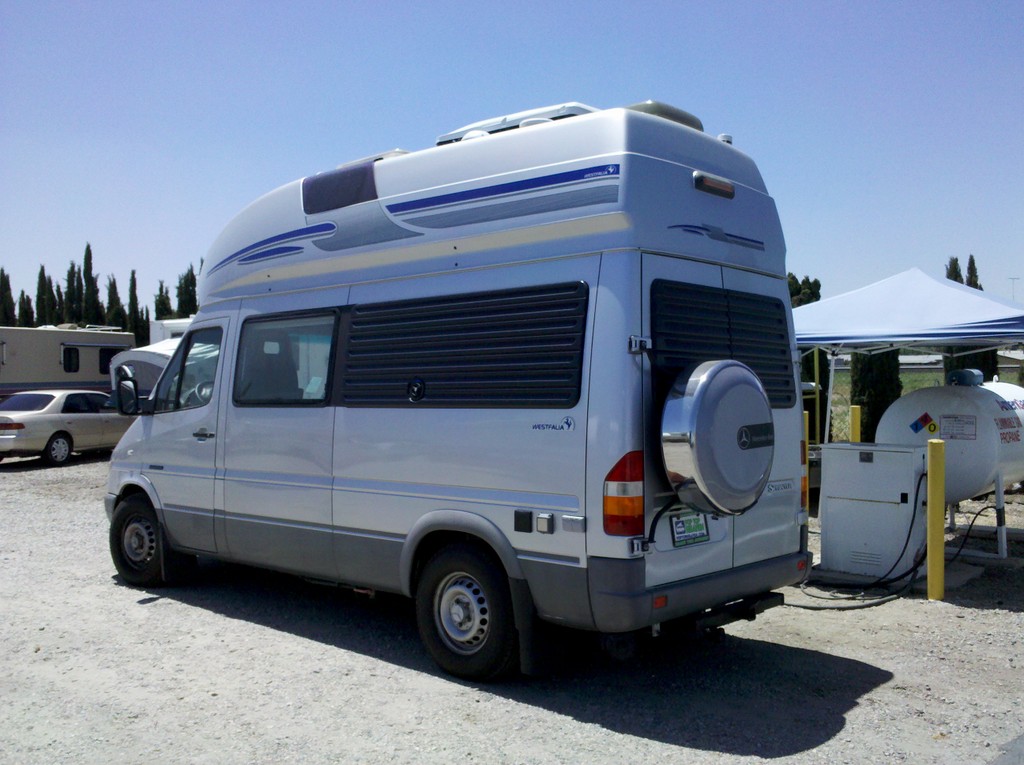 So there you have it! I'm sure there's stuff I've forgotten to mention. You can get in touch with me through the contact form on this site. I'd love to talk with anyone on the phone, too – just email me first and I'll send you my number.
Happy travels!
Mike.